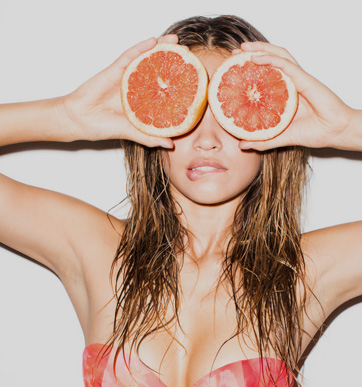 Featured Article
Snack your way to Sun Protection
Sure, you slather sunscreen from head-to-toe at the beach and are known for your monstrous sun hat. But, external protection from damaging UV rays might not be enough under our intense so-Cal rays. It turns out that certain foods can also boost sun protection from the inside-out. Here are our favorites.
Tomatoes
These fresh summer faves earn a spot on the sun protective list for their high levels of lycopene, a powerful antioxidant giving tomatoes their orange-red hue that helps neutralize the harmful effects of UV rays. In a recent study of tomato-eaters versus non-eaters, those who consumed the fruit had 33% more protection against sunburn, had increased skin levels of procollagen–a molecule that gives skin its youthful structure–and had less mitochondrial DNA damage, which is believed to be linked to skin aging.
Pomegranates
Pomegranate seeds are rich in anthocuanidins, ellagic acid, and punicalagin, which are powerful antioxidants that fight and repair free-radical damage from the sun. Seeds are also rich in anti-inflammatories that help combat sunburn redness (if you should unfortunately get one).
Walnuts
Rich in heart-healthy Omega-3's, walnuts defend against skin cancers with their impressive levels of sun tolerance-boosting Vitamin D. Omega-3s also keep the skin barrier well-oiled, so it can more effectively hold in moisture that summer heat tries to steal.
Leafy Greens
Leafy greens, such as spinach and kale also contain hefty doses of free-radical fighters. And, the darker the leaf, the better! Spinach is loaded with lutein, vitamins B, C, and E, iron, and omega-3s.
Dark Chocolate
Dark chocolate is high in antioxidant flavonoids such as epicatechins, catechins, procyandins that act to repair sun-damaged skin. Even better, they keep your heart and brain young too!
While there is no excuse to skip SPF, supplementing with sun-protective super-stars gives you additive advantage. Hit the sand with this tasty Super-Salad.
Tomato Walnut Pomegranate Salad
Ingredients
Heirloom tomatoes, 1 cup, diced
Cucumber 6-inch, de-seeded & diced
Red onion 1 small, finely chopped
Pomegranate seeds from 1 fruit
Walnuts ⅓ cup finely chopped
Mint leaves ⅓ cup, torn
Flat-leaf parsley ⅓ cup roughly chopped
Extra-virgin olive oil 2-3 tablespoons
Lemon juice of 1 lemon
Salt and freshly ground black pepper
Spinach leaves, 2-4 cups
Preparation
Gently toss all ingredients 1-9 and season to taste with salt and freshly ground pepper. Mix in 2-4 cups fresh spinach leaves to taste. Serves 4.