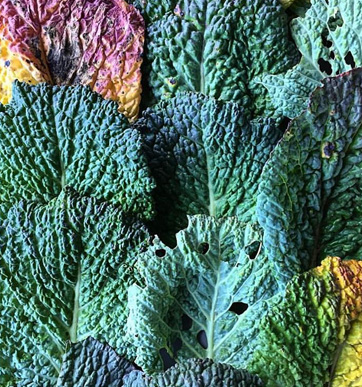 All Articles
Greens! Why you gotta do them.
You've heard it before. Greens are good for you! But, they're amazingly good for your skin. Why? It probably has to do with the tough life of a leaf. Think of the leaf as the work-horse of the plant: its job is to turn light energy into plant fuel through a process called photosynthesis. Although successful in creating fuel, photosynthesis is an imperfect machine that generates damaging free radicals in the process. Free radicals are unstable molecules that disrupt cellular processes and accelerate cell aging. How do leaves deal? They also produce numerous antioxidants, which squelch free radicals, preventing widespread damage.
The good news is that antioxidants do the exact same thing in our skin when it's bombarded with free radicals generated from UV light, chemicals, and pollution. Eating greens replete in antioxidants thus keeps skin cells healthy and damage-free.
Need a recommendation for greens-packed goodness? Try a Spinach-Avacado-Apple Smoothie. Combining the antioxidant benefits of spinach, apple, and avocado with immune boosting properties of lemon, raw honey, and ginger gives you serious healthy sipping. Drink up!
Serves 2
Ingredients
1 cup unsweetened almond milk
2 green apples, cored and sliced
3 cups loosely packed spinach
1 avocado, peeled & pitted
2 teaspoons raw organic honey
1 teaspoon chopped fresh ginger
2-3 tablespoons fresh lemon juice
4 to 6 ice cubes
Preparation
Blend all ingredients until smooth and serve!
Nutrient Specs
Almonds: antioxidants (omega-3, flavenoids)
Apples:  antioxidants (Vitamin C, flavonoids), dietary fiber
Spinach: antioxidants (Vitamins A, C), DNA repair (Vitamin B3)
Avacado: antioxidants (omega-3)
Honey: anti-inflammatory
Ginger: antioxidant, anti-inflammatory
Lemon: antioxidants (Vitamin C)