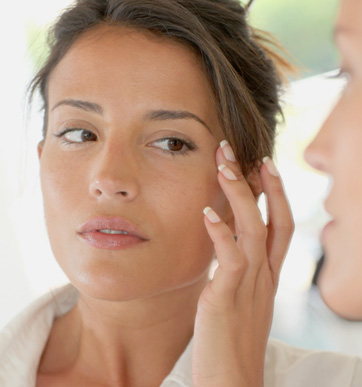 Cosmetic Dermatology
CO2 laser Resurfacing
At Moy, Fincher, Chipps Facial Plastics and Dermatology in Beverly Hills, CA, our board-certified, fellowship-trained dermatologists can dramatically improve your skin with Fractionated Carbon Dioxide (CO2) laser resurfacing. This laser allows precise removal of aged, damaged skin, layer by layer, to uncover softer, smoother, and younger-looking skin. Laser skin resurfacing effectively treats fine lines, deep wrinkles, texture irregularities, and scarring. By creating micro-wounds in the skin, CO2 laser resurfacing stimulates collagen synthesis and regeneration of healthier, younger skin.
Why Fractionated CO2 Laser Resurfacing?
Fractionated CO2 laser resurfacing is the gold standard for wrinkle removal and skin tightening. It also improves poor skin texture, acne scars, brown and red spots, and removes damage that can turn into precancerous and cancerous lesions.
The CO2 laser's intense light beam safely penetrates the skin down to deeper layers to rejuvenate damage restoring healthy skin without invasive surgery. With modest downtime and minimal discomfort, we can turn back the clock effectively and naturally.
CO2 laser resurfacing is great for those who are afraid of overfilling with soft tissue fillers that can look unnatural if done incorrectly and which requires maintenance treatments. It is also great for those who fear surgery and a too tightly pulled face from an excessive facelift.
How CO2 Laser Resurfacing Works
Using microscopic beams of light, the CO2 laser effectively removes sun damage, tightens the skin, and eliminates fine lines and wrinkles. The light stimulates a wound-healing response that produces new collagen and elastin, which causes the skin to tighten and restores the structural support. In addition to smoother, more flawless skin, you will see healthier, firmer, tighter skin for total rejuvenation. Because the laser is fractionated, meaning that it treats only a fraction of the skin at one time, healing time is accelerated and the laser can be used on more skin types effectively without changing skin color.
The Consultation
During your cosmetic dermatology consultation, your doctor will provide detailed pre-operative requirements, and the expected post-treatment course. Your questions will be answered thoroughly and thoughtfully.
The Procedure
Fractionated CO2 Laser Resurfacing is an office procedure, which usually takes about 45 minutes – 1 hour. Before and during the procedure, we will use topical or injected numbing medication, and sometimes a medication to help you relax. Right after your treatment, your skin will feel warm and will be similar in appearance to a deep sunburn. You will be given detailed instructions on how to care for your skin and a customized gift bag with important topical ointments and creams to accelerate your healing and maximize your comfort.
Recovery
Recovery time is usually about 7-10 days. Your face will be pink-red for the first 3-5 days, then turn brown as damage comes off. At about 7-10 days your skin will look renewed, pink, and much smoother. Patients may apply special makeup at this stage to even out the skin tone. Many patients can return to work at this stage. Pinkness will resolve in about 4-6 weeks. As collagen continues to build, your skin will notice lines continue to fade for about 6 months.
Benefits
Fractionated CO2 Laser Resurfacing is the best option when you want significant natural-looking results with a single treatment. It is also the best procedure for serious skin damage and wrinkling. The treatment will improve the appearance of sagging skin, shrink pores, smooth acne scars, traumatic scars and old surgical scars. Essentially, it offers overall skin rejuvenation without the need for surgery.
CO2 Laser Resurfacing is available to treat the skin of your face, neck, chest, and hands, and can even treat the most delicate eyelid skin to remove crepiness.
What areas of the body can be treated?
Face, Eyelids, Under-eye texture problems, Neck, Chest, Arms and Hands.
If you have loose eyelid skin, crow's feet, pucker marks and frown lines, wrinkles around the mouth, irregular pigmentation, sun damage and poor texture, you will be delighted with results from a CO2 resurfacing laser treatment.
What time of year is best for Fractionated CO2 Laser Resurfacing?
The fall/winter is "laser season" because skin treated with a laser is hypersensitive to intense sun for several weeks after treatment. In autumn and winter, the sun is less intense, and we stay inside more often. When we treat the skin of the chest, hands and neck, you can also more easily conceal treatment healing with clothing.
At Moy Fincher Chipps Facial Plastics and Dermatology in Beverly Hills, CA, we have the training, skills, experience and knowledge to dramatically improve your skin. We offer many effective laser treatments for a variety of cosmetic and medical skin conditions. We are known to deliver the most natural- looking results for our patients. We customize all our treatments, including our CO2 Laser Resurfacing procedures.
When you desire to look as good as you feel, reach out to Moy, Fincher, Chipps Facial Plastics and Dermatology in Beverly Hills, CA, to enhance your health and beauty.