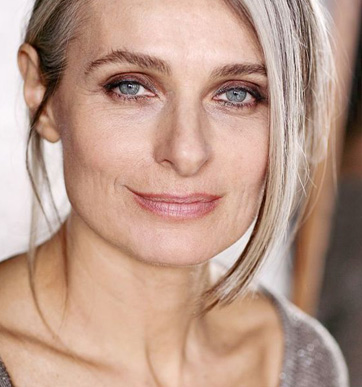 Q&A
Minimally Invasive Neck Lift Q&A with Dr. Ronald Moy
A less invasive neck lift is an outstanding procedure for neck rejuvenation that is achieved with fewer incisions, less pain and minimal downtime. The aging neck is defined by pigmentation changes, loose skin, lax muscles, horizontal wrinkles, loss of jaw contour, accumulation of submental (under the chin) fat, and prominence of neck bands. A sagging neck betrays our age. We often do a good job keeping our faces refreshed with topicals, fillers and Botox, but forget about our necks.
Traditional techniques to address the neck often require large incisions, the use of surgical drains and sometimes an overnight hospital stay.
A less invasive neck lift combines minimally invasive techniques that tighten and lift skin under local anesthesia. Incisions are minimized and there is no need for surgical drains and recovery times are faster. A minimally invasive neck lift can also be combined with laser treatments to even skin color or liposuction to remove excess neck fat for optimal rejuvenation. When you desire a renewed sense of confidence, a minimally invasive neck lift can rejuvenate your appearance by restoring your neck contour in a very natural way. Learn more about this procedure from Beverly Hills Cosmetic Surgery Dr. Ronald Moy in our interview below.
Q: What is a less invasive neck lift? How does the procedure differ today than from 10 years ago?
A: A less invasive neck lift accomplished optimal result using minimal incisions hidden behind the ear and is performed under local anesthesia. The procedure differs from 10 years ago in that no drains are necessary because there is no bleeding and it does not require being put to sleep.
Q: Where and how large are the incisions needed for a less invasive neck lift?
A: The incisions are placed in the crease where the ear meets the head called the post auricular sulcus and it extends into the hairline. These incisions heal well, look natural and are difficult to detect.
Q: Are there alternative procedural options that can tighten neck skin?
A: It is the best procedure for tightening the neck skin since about 1 inch of skin is removed behind each ear. Microneedling radiofrequency and ThermiTight can accomplish modest tightening.
Q: How do you remove under chin fatty deposits?
A: The fatty deposits under the chin are best removed with liposuction using a very small micro cannula, which is just a few millimeters thick.
Q: What treatments can be combined with a neck lift?
A: The most common procedure with a neck lift is fractional carbon dioxide laser resurfacing because this improves wrinkles, evens skin color and tightens the skin.
Q: In addition to a sagging neck, I also have jowls? How are these addressed?
A: Jowls are greatly improved with a neck lift because even though the sutures are placed behind the ear lobe that vector of pull does improve the jowls like a mini-facelift.
Q: Men's skin is thicker and less elastic. Can men have a less invasive neck lift?
A: Men's necks can be tightened with a submental incision and an incision that goes up and down the neck. The thicker, less elastic skin requires less surgical tightening. The scar created can me minimized with laser resurfacing.
Q: Is a minimally invasive neck lift an outpatient procedure?
A: A minimal invasive neck lift is an outpatient procedure since almost all our cases are performed under local anesthesia without any sedation
Q: What type of anesthesia is used?
A: Neck lifts are anesthetized using dilute local anesthesia dripped behind the ear. The face for laser resurfacing is anesthetized with 4 painless dental blocks and 2 Botox type forehead injections
Q: What is the recovery time?
About 10 days because the complications of bleeding, pain, and scarring are so minimal that healing is quicker that 10 years ago.
Interested in learning more about a minimally invasive neck lifts in Beverly Hills, CA? Schedule a cosmetic consultation one of the leading cosmetic and facial plastic surgeons in Los Angeles, Dr. Ronald Moy. Dr. Ronald Moy has been helping patients in Los Angeles, Beverly Hills, Encino and Torrance achieve their skin health and beauty goals for more than 25 years. Dr. Ronald Moy and the entire team of renowned dermatologist at Moy, Fincher and Chipps Facial Plastic & Dermatology are at your service.