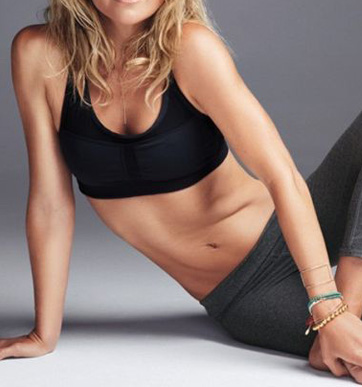 Q&A
Vanquish vs. CoolSculpting Q&A with Dr. Jenna Queller
Vanquish is a nonsurgical treatment for fat reduction that painlessly shrinks and destroys stubborn fatty deposits. Because it relies on radiofrequency heating, it also tightens the skin in the areas where fat is reduced. The most popular Vanquish targets areas are the tummy, love handles, lower back, bra bulge and thighs.
CoolSculpting is a nonsurgical treatment that also reduces fatty deposits by freezing. It uses applicators that suction up pinchable fat that is resistance to diet and exercise. It targets visible fatty bulges under the chin, thighs, abdomen, flanks, bra fat, and butt fat.
Because there are multiple non-invasive methods for reducing fat, our patients often wonder about the differences between devices. This interview with Dr. Jenna Queller helps elucidate the differences between the latest technologies available.
Q: What is the best non-surgical body contouring procedure for fat reduction?
A: Body contouring is an area that is developing rapidly, with many new devices coming to market every year, using multiple technologies. The two most popular seem to be Coolsculpting and the Vanquish. Vanquish is a newer technology than Coolsculpting, and was FDA approved for permanent fat reduction in June 2015. Coolsculpting destroys fat cells by freezing; Vanquish destroys fat cells with heat. Once the fat cells are destroyed, the body's lymphatic system carries away the cellular debris, and it is excreted.
The Vanquish is specifically designed for those who want to get rid of frustrating belly fat. In addition to destroying the fat cells, the radiofrequency technology of Vanquish causes tightening and smoothing of the overlying skin.
Q: Which procedure will eliminate the most fat?
A: In the FDA studies, Coolsculpting destroyed 20-25% of the fat cells treated, while the Vanquish destroyed 25-30%. According to a study performed by BTL Aesthetics, after 4-6 weekly treatment sessions, patients using Vanquish report up to 59% reduction in fat at the treated site as contrasted to the 20-22% offered by CoolSculpting.
Q: Which procedure is most effective to sculpt and contour?
A: The size of the area treated with Coolsculpting is about the size of a stick of butter. Coolsculpting requires a small area of fatty tissue to be sucked into the device and left in place for about 1 hour. Then, another area is treated, and so on. Because of this technique, the treatment is often uneven, and lumpy. In contrast, the area treated with Vanquish is a half circle that includes the entire abdomen, front and sides. Therefore, treating the entire abdominal area at once, as the device hovers above the skin without contact, providing a more even smoother result.
Q: Can I have Coolsculpting if I have large fatty deposits that I can't grab? How about Vanquish?
A: No. Coolsculpting is ideal for candidates with stubborn fat that have a certain amount of protrusion that you can grab and hold onto beyond a 1" pinch test. Although it has been approved for treating the thighs, it is more often applied to the flanks or lower abdomen.
The Vanquish does need to make direct contact and therefore large fatty deposits are not necessary for it to be successful. The Vanquish hovers over the entire abdominal area and results in a more even sculpted abdomen and sides.
Q: Do I have to be at my ideal weight for Vanquish vs. CoolSculpting?
A: Adults in good shape with areas of unwanted fat that do not want to undergo surgery are ideal candidates for Vanquish. Good candidates are already physically active and adhere to a healthy diet. CoolSculpting is a good match for people who are close to their target weight, but want to reduce small, localized trouble spots. You should ideally be within 30 pounds of your ideal weight before having noninvasive body contouring.
Q: Which body contouring procedure will work best to slim my waist?
A: Most patients with a large area of treatment, such as the abdomen or flanks will have a better outcome with the Vanquish compared to Coolsculpting, in terms of the amount of fat that is destroyed. Additional benefits are a smoother more even result, with less discomfort and less risk of complications. One of our most popular treatments is the "Shrink Wrap" treatment, in which the belly, love handles, and lower back fat are all targeted.
Q: How many Vanquish treatments are needed to yield the best results? How many CoolSculpting Treatments?
A: For best results with the Vanquish, it is recommended to have weekly treatments for 6 weeks. To treat the entire abdominal area, the Coolsculpting device will often require 4-6 areas of treatment, each one requiring one hour of treatment and may possibly need up to 3 treatments.
Q: How soon will I see results from Vanquish vs. CoolSculpting?
A: Once the fat cells die, they are flushed from the body during the weeks following the procedure. The final result is seen after three to four months with Coolsculpting. Vanquish results tend to be realized a little earlier than those with CoolSculpting and results are more uniform.
Q: Can you compare the side effects between Vanquish and CoolSculpting?
A: After Coolsculpting treatments, many patients suffer from nerve pain due to freezing of the nerves in that area.  This typically resolves without treatment after weeks or months. Nerve pain or neuralgia has never been observed with the Vanquish. Paradoxical Adipose Hyperplasia (PAH) is a complication seen with Coolsculpting, in which the area adjacent to the treated area undergoes rapid proliferation of the fat tissue, usually seen months after the initial Coolsculpting treatment.  Further treatment with Coolsculpting is ineffective, and even liposuction has failed to remove the abnormal tissue. It is now believed that surgical excision is needed to remove this paradoxical adipose hyperplasia. PAH has never been reported with Vanquish.
Q: Can you talk about the pain and discomfort from the CoolSculpting vs. Vanquish?
A: The Coolsculpting "freeze" is more uncomfortable for most patients, compared to the non-contact Vanquish heat treatment. The applicator is larger with Vanquish and once the device is placed over the treatment area, most patients feel quite warm, almost like wearing a large heating pad. Although your skin may become warm and pink, pain is unusual. If a hot spot forms, the device can be easily adjusted to decrease any discomfort.
Q: Why should I choose Moy Fincher and Chipps Facial plastics and Dermatology in Beverly Hills, for Vanquish treatments?
A: If you're struggling with unwanted fat, there are options to slim and reshape your body. The skilled board certified dermatological surgeons at Moy, Fincher, Chipps Facial Plastics and Dermatology in Beverly Hills can help. While there are many different body-sculpting techniques available, the experts at Moy, Fincher, Chipps Facial Plastics and Dermatology offer successful results with noninvasive Vanquish treatments and for those who are better candidates for tumescent liposuction, we perform that as well. At Moy, Fincher, Chipps Facial Plastics and Dermatology we will address all your concerns and recommend what's best for your body type. Why would you trust your body with anyone other than extensively trained experts? Schedule a body contouring consultation.