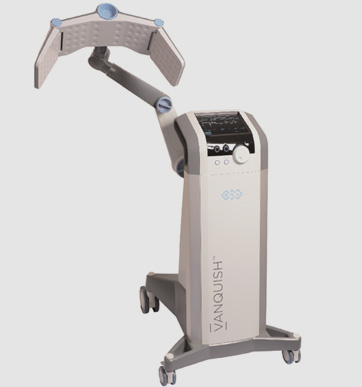 Q&A Interview
Vanquish Q&A with Drs. Moy, Fincher, Chipps
For some, no matter how much we exercise or how well we eat, certain pockets of stubborn fat simply won't respond. Non-invasive body contouring with Vanquish can reduce fat, slim treatment areas and is painless. In this Q&A Interview our team of fellowship trained and board-certified cosmetic surgeons discuss Vanquish Fat Reduction treatments.
How does Vanquish work?
Vanquish Fat Reduction is a non-invasive procedure that uses radio-frequency energy to heat and diminish fat cells, without harming the skin and surrounding tissue. Vanquish can be applied on the abdomen, upper back and arms to reduce body fat.
A series of 4-6 treatments will slim and reshape the abdomen, reduce the circumference of thighs and upper arms, and trim love handles, bra bulges and back fat. The thermal energy created during Vanquish treatments also kickstarts the body's natural production of collagen, which firms and tightens the skin in the treated areas.
Is Vanquish treatment painful?
Unlike liposuction, Vanquish doesn't remove the fat cells invasively, rather your body naturally eliminates the destroyed fat cells. You'll feel a warm sensation on the treatment area. Very little if any discomfort is felt. Vanquish is remarkably painless.
How long is each Vanquish treatment?
Vanquish treatments are relatively fast. Each Vanquish treatment can take between 30 – 45 minutes. Our cosmetic dermatologists take their time to ensure the best results. You should never feel rushed.
How does Vanquish compare to CoolSculpting?
Vanquish is a newer technology than Coolsculpting, and was FDA approved for permanent fat reduction in June 2015. Coolsculpting destroys fat cells by freezing; whereas Vanquish destroys fat cells with heat. Vanquish is specifically designed for those who want to get rid of frustrating belly fat.
How long does it take to see results from Vanquish?
Many patients report seeing results after the first session, with the full effect being seen within two weeks after the final session. Vanquish kills the entire fat cell, not just the fat inside the cell, making results successful long-term. Long-lasting results are sustainable with a healthy lifestyle.