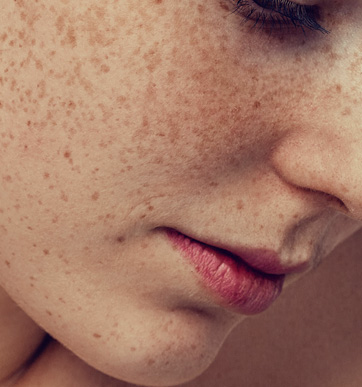 Cosmetic Dermatology
Treating Sun Damaged Skin
The skin uses sunlight to help manufacture vitamin D, which is important for normal bone formation. But sometimes its ultraviolet light can be very detrimental.
Within the skin's epidermal (outer) layer are cells that contain the pigment melanin. Melanin protects skin from the sun's ultraviolet rays, which can burn the skin, and over time, could reduce its elasticity and cause a person to age prematurely. Tanning occurs because exposure to sunlight causes the skin to produce more melanin and to darken. The tan fades as these cells move toward the surface and are shed off.
Too much exposure to ultraviolet or UV rays can cause sunburn. UV rays penetrate the outer skin layers and pass into the deeper layers, where they can damage or kill skin cells. People who do not have much melanin and sun burn easily should protect themselves by covering up sensitive areas, wearing sun block, limiting their total exposure time, and limiting their sun exposure during midday.
Dangers of Sun Exposure
Frequent and prolonged exposure to ultraviolet rays over many years is the chief cause of skin cancer. Examine skin regularly for development of suspicious growths or changes in an existing skin lesion. Early detection and treatment are key in increasing the cure rate for skin cancer.
In addition to increased risk of skin cancer are the formations of sun spots, brown spots, hyperpigmentation and melasma. Skin discoloration can create the appears of aging. Sun spots can be frustrating and hard to conceal with foundation and makeup. Smooth consistent skin tone is associated with more youthful healthy skin.
Treatments for Sun Damaged Skin
Fortunately, there are treatment options available to reduce the signs of sun damage. Moy-Fincher-Chipps Facial Plastics and Dermatology have the latest and highest efficacy devices to treat sun damaged skin and sun spots.
PiQo4 Pigmentation Laser: PiQo4 treatments target pigmentation and discoloration on the face, neck, chest, arms, back and hands. PiQ04 laser treatments tackle a wide range of pigment shades with high energy and fast results. The PiQ04 laser is different than others because it uses acoustic or sound energy rather than heat energy to obliterate discolorations of the skin. Learn more about the PiQo4 Pigmentation Laser.
Clear + Brilliant: Clear + Brilliant is our most gentle resurfacing laser. It is effective to treat and prevent the early signs of aging. This non-invasive factional laser affects only a fraction of the skin, leaving healthy, undamaged cells to heal and rejuvenate the skin. Learn more about Clear + Brilliant.
Fractionated Erbium: Fractional erbium laser resurfacing is an anti-aging treatment that refreshes and rejuvenates your appearance. Fractional laser resurfacing produces significant improvement sun spots. This fractionated ablative laser breaks up its laser beam into a grid of tiny beams that create microscopic injuries to the top layer of skin. Because only a "fraction" of the skin is treated at one time, healing is more rapid and downtime is less. Learn more about Fractioned Erbium.
Microneedling Radiofrequency: Sterile microneedles create microscopic wounds in the deep layer of skin. Radiofrequency energy is then delivered in a controlled dose through the microneedles. RF energy heats the dermis and facilitates natural wound healing, with a rush of platelets and growth factors to remodel collagen and elastin, which tightens the skin, as well as treat sun damage.
Fractionated CO2: Fractionated CO2 laser resurfacing yields dramatic improvement in skin tone and texture; evens out pigmentation and eliminates sunspots, as well as smooths lines. By physically removing the top layers of damaged skin, CO2 laser resurfacing also has medical benefit, removing pre-cancers and stimulating growth of healthier younger skin.
DNA Facials: Regular facials that utilize our DNA EGF Repair products focus on anti-aging, hyperpigmentation, sun damage, and acne-prone skin.
Recommended products:

Regeneration Serum – triggers skin cell renewal and growth resulting in tighter, thicker skin
DNA Intensive Renewal/DNA Night Renewal – replenishes the supply of naturally occurring DNA repair enzymes, attacks UV induced damage to diminish and help prevent age or maturity spots
DNA Defense SPF 30+ – fights sun damage and cellular damage, contains the optimal blend of tested ingredients to absorb and block a broad spectrum of damaging UV rays