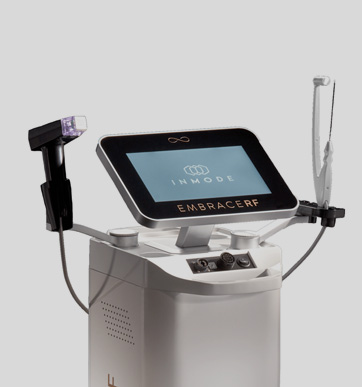 Cosmetic Dermatology
ACCUtite, FACEtite, Morpheus8 – Our New InMode Device
Moy-Fincher-Chipps Facial Plastics & Dermatology selectively purchases the latest technology in an effort to provide our patients with the best treatment options available. We have a collection of over 30 lasers for treating all aesthetic needs. Our newest addition is the InMode EmbraceRF. This device provides three truly innovative treatment options – AccuTite, FaceTite, and Morpheus 8. In this blog article, our leading dermatologists provide a high-level overview of each treatment option.
ACCUtite
AccuTite is the smallest minimally invasive radiofrequency skin tightening device on the market. AccuTite delivers precision heating to small and delicate areas of the face and body, to provoke natural tissue rejuvenation. AccuTite effectively treats areas on the face and the body such as:
Face
Droopy eyelids and undereye hollows
Nasolabial folds
Sagging jaw line (jowls)
Double chins
Skin laxity
Body
Underarm fat
Upper arms
Lower abdomen
Inner thighs
Sagging skin around the knees
AccuTite is ideal for anyone looking to enhance areas of their face or body by tightening the skin and removing stubborn layers of fat. With precision and accuracy, AccuTite effectively delivers youthful, smoother skin without incisions, general anesthesia, extensive downtime or scarring.
FACEtite
FaceTite is an advanced contouring system to treat the most delicate body area, the face and neck. FaceTite is minimally invasive and is the next best alternative to a facelift without invasive surgery. Using RF technology, your skilled facial cosmetic surgeon can contour the face and tighten skin.
Sagging jowls
Double Chin
Lifting cheeks
Jawline contouring
Re-contouring the face and neck by removing excess fat
Tightening the neck skin for neck wrinkles and turkey neck
Improving fine lines and wrinkles
FaceTite is ideal for anyone who looking to enhance loose, sagging or wrinkled skin in the jowls, neck, cheeks and perioral area. FaceTite is an ideal treatment for anyone who is experiencing facial aging but is not ready for a facelift, or anyone who has had a facelift and would like to maintain their youthful appearance without additional surgery.
Morpheus8
Morpheus8 targets subdermal layers of the skin and tissue to remodel collagen on the face and body. This fractional skin treatment stimulates the production of collagen in the underlying layers of the dermis. It can be used on most body parts with the most popular being the lower face and neck. Morpheus8 can be used on any areas that can benefit from sub-dermal renewal, such as:
Wrinkles
Acne scarring
Skin tightening
Underlying fatty tissue
Microneedling has been a long-respected practice in facial skin care, recognized for its ability to treat lines, wrinkles, acne scars, and restore a supple quality to facial skin. The Morpheus8 combines microneedling with radiofrequency energy to dramatically revitalize facial appearance by remodeling and rebuilding the underlying collagen to produce stronger, more youthful skin.