Good Faith Estimate
A Good Faith Estimate on Your Healthcare Costs May Be within Your Rights
Patients who don't have certain types of health insurance coverage, or don't use certain types of coverage (this includes uninsured or self-pay patients), are entitled to a Good Faith Estimate (GFE) of their bill from health care providers before those items or services are provided.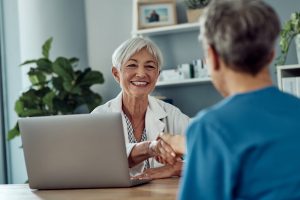 This GFE will be provided upon request and factors in potential expenses such as medical tests, prescriptions, equipment, and hospital fees.
If an appointment is scheduled three days in advance, we'll provide a Good Faith Estimate within one day of scheduling. When you schedule 10 business days in advance, the estimate should be provided within three days after scheduling. The estimate is also available to the patient or customer before scheduling any service, and can be provided within three business days of the request. Any bill that is more than $400 over the Good Faith Estimate can be disputed under federal law.
It's important to understand that a Good Faith Estimate doesn't factor unknown or unexpected costs that can emerge during treatment. For example, you may schedule an appointment for a specific reason and a provider could bring up another area of concern. Additional procedures not contemplated at the time of the estimate would not be reflected. Any complications that arise could result in additional charges as well.
For questions on a Good Faith Estimate from Golden State Dermatology, contact
your location's manager