Facelift
What is a facelift?
A facelift is a surgical procedure to improve the visible signs of aging in the face and neck. A facelift is the most comprehensive method to treat facial wrinkles and sagging skin due to gravity, fat, muscle, and bone loss. The procedure removes excess skin, reduces wrinkles, and tightens the underlying muscles and deep tissues that support facial structure, correcting midface sagging, hanging jowls, and a double chin. While a facelift does not stop the aging process, addressing these significant changes can restore natural beauty, and give a refreshed, more youthful appearance.
A facelift is not intended to nor does it change your basic appearance. Using our surgical technique, we lift but do not overly pull or stretch skin or deeper tissues. This keeps contours natural, avoiding a wind-swept, obviously "done" look.
Aging causes significant changes in the face and skin including:
Lost volume,
Sagging skin and deep skin folds (nasolabial folds run from the nose to the corners of the mouth; and marionette lines run from the corners of the mouth to the chin),
Stretched and loose underlying muscles and deep tissues,
Excess skin and fat accumulation in the jowls and jawline, and
Changes in skin texture and tone.
The facelift procedure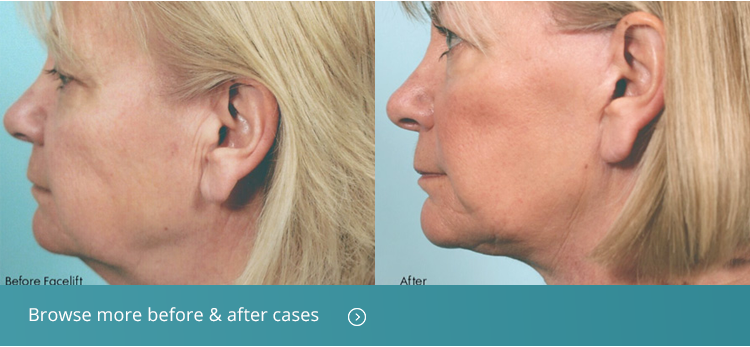 Most often, your cosmetic surgeon at Moy, Fincher and Chipps perform facelift procedures under tumescent local anesthesia or twilight anesthesia. While we ensure that you are comfortable and relaxed, these options are safer than using general anesthesia and allow for a more rapid recovery with less bruising and no surgical drains. Surgical incisions are concealed in the hairline and the natural contours of the face and ears, so they remain inconspicuous.
There are two basic components to our facelift surgeries. First, deeper tissues including the Superficial Muscular Aponeurotic System (SMAS) are tightened and lifted, which helps reposition sagging structures and gives longer lasting facial support. Next, the overlying skin is re-draped over the newer, tighter contours and excess skin is removed. If needed, fat may be sculpted or redistributed from the jowls and neck or other area of the body to restore lost volume in the upper and mid face. This achieves more youthful contours and natural proportions. Wrinkles and deep folds are smoothed for a cleaner jawline and chin.
Facelift surgery can be combined with neck liposuction or a minimally invasive neck lift to give the entire head and neck a younger appearance. Our patients can also elect to address heavy eyelids and drooping brows at the same time as a facelift typically does not improve these problem areas.  Most importantly, we often recommend simultaneous laser resurfacing with your procedure. Wrinkles around the mouth (vertical radiating lines), crepey skin beneath the eyes, and brown spots and skin texture changes from cumulative sun damage are significantly improved with lasering but not facelift surgery. For patients with these problems, a much more unified appearance is achieved when we correct aging skin at the same time as correcting sagging contours with a facelift. When a patient has a facelift and achieves new youthful contours but does not address "aged" skin, this often appears less natural as the damaged skin doesn't match the lifted face. It makes other people think "something was done," even if they can't place it exactly. Appearing most natural is a top priority, so our surgeons will always discuss additional treatments or topical products that will help you achieve a well balanced, matched appearance.
Your consultation
During your consultation, your Moy – Fincher – Chipps cosmetic surgeon will determine if you are a good candidate for a facelift. They will discuss your surgical goals, medical history, current medical conditions and medications, and previous surgeries. Your Moy – Fincher – Chipps cosmetic surgeon will assess your face and skin, listen to your concerns, answer your questions, and thoroughly explain your best options. Measurements may be taken as well as "before" photos.
If you are a good candidate, your surgeon will create a personalized treatment plan that is geared toward your needs and objectives. You will also receive information about the procedure, pre-operative requirements, post-operative expectations, potential risks and complications, and potential outcomes.
Who is a good candidate for a facelift?
If you have deep lines and wrinkles and a significant amount of facial skin laxity, surgery may be the best option for both face and neck rejuvenation. Fillers and other injectables can offer some improvement,  but they cannot remove loose skin, which is the biggest benefit of a facelift.
You may be a good candidate for a facelift if you have:
Sagging skin in the middle and lower portions of your face
Jowls and fatty deposits around your mouth and under your chin
Deep creases that run from the nose to the corners of the mouth
Loss of skin tone in the lower face that creates jowls, and
Flattened facial contours due to aging, gravity, heredity, sun and environmental damage.
Finally, the best candidates are healthy, do not smoke, have positive outlooks and realistic expectations.
Schedule a consultation with Moy – Fincher – Chipps cosmetic surgeon in any of our three Los Angeles offices, Beverly Hills, Torrance, and Encino to learn about how you can achieve your desired enhancements to restore a rested, more youthful appearance, boost your confidence and enhance your self-esteem.