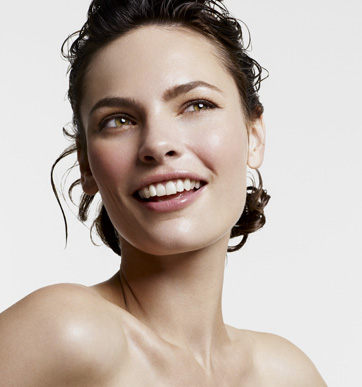 Cosmetic Dermatology
Is my neck aging me?
You diligently cleanse, moisturize, apply reparative serums and of course sunscreen every day to your face. But, what about your neck? It's an area all too often neglected and unfortunately, one of the first signs to show age because of its more delicate skin. Don't let your neck give away your true age. Here are a few of our doctor's favorite tips on how you can restore a more youthful neck, no matter your concern.
Rejuvenate
Because the skin on our necks is thinner than on our faces and has less naturally occurring oils, it's more prone to redness, irritation, and early wrinkling. Hydration is key and using moisturizers with hyaluronic acid keep the skin barrier healthy, helping to protect from external offenders. Topical products that stimulate collagen production are also important. Growth factors contained in our DNA EGF Regeneration Serum and mild retinoids like those in our Renova cream, both encourage production of collagen, keeping skin smooth and tight. But, diligence is key, and there's no "instant fix." Daily, long-term use of these products in addition to using sunscreen provide an excellent foundation but don't deliver the same results as more restorative in-office procedures.
Correct Color
Brown spots and overall redness from chronic sun often leave our necks mottled. A series of laser treatments that target both brown discoloration and red blood vessels can even skin color, improving appearance. Toning treatments with our newest piQo4 picosecond laser also offer color correction while simultaneously giving skin glowy radiance.
Tighten & Tone
Crepey texture and fine wrinkling are common complaints of neck skin. Tightening procedures using radiofrequency heat can stimulate collagen production, restoring firmness and decreasing lines. Pelleve uses a warm wand to stimulate collagen production with no downtime, and our minimally–invasive microneedling radiofrequency devices use fine needles to deliver heat more deeply into neck tissues, tightening neck skin even more.
Reduce Fullness
Fat tends to accumulate under the neck, creating an excess bulge reminiscent of a turkey wattle. Fat can be permanently destroyed with Kybella, an injectable enzyme that dissolves fat slowly over time. Fat can also be removed with radiofrequency heat using our ThermiTight device or with minimally-invasive liposuction. Because fat cells are destroyed with all of these techniques, results are long lasting.
Transform Contour
If too much skin creates folds along your neck, there is no better way to tighten your silhouette than by a surgical neck lift. Small incisions are placed around the front and back of your ears, skin is redraped naturally and extra is removed. With our less invasive approach, most patients are kept comfortable under local tumescent anesthesia rather than general anesthesia, and recovery is accelerated without the use of surgical drains and post-operative hospital stays.
To learn more about how you can re-define your neck, call us to schedule a consultation with one of our board-certified dermatologic surgeons.