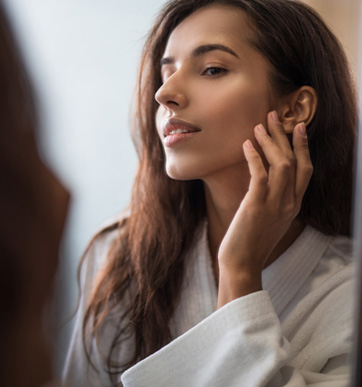 Q&A Interview
Fractionated CO2 Laser Resurfacing Q&A
Fractionated CO2 laser resurfacing is one of the most effective procedures available for skin rejuvenation. Fractionated CO2 laser resurfacing relies on stimulating collagen synthesis, producing beautiful and more natural results. Fractionated CO2 laser resurfacing works by removes layers of skin tissue to help reduce or eliminate skin discoloration, age spots, fine lines, wrinkles, scarring, skin laxity, textural irregularities, dull tone, and a thinned collagen layer of the face, neck, and chest. Most importantly, Fractionated CO2 laser resurfacing tightens skin. This is why Fractionated CO2 laser resurfacing is ideal for improving wrinkles around the mouth and eyes. Fractionated CO2 laser resurfacing is unique in that the side effects are negligible. Furthermore, Moy, Fincher, Chipps Facial Plastics & Dermatology only uses the most best laser technology on the market, without compromise. For example, a full-face procedure can be performed in as little as 15 minutes and delivers amazing results. In the question and answer interview, Dr. Ronald Moy answers the most frequently asked questions about Fractionated CO2 laser resurfacing.
How long after Fractionated CO2 laser resurfacing treatment will I see results?
Although your skin will be visibly tighter and smoother in 1 week after the procedure, results are typically seen at 3-6 months later as it takes time for new collagen to synthesize.
Can Fractionated CO2 laser resurfacing improve scar lines?
Healthy patients with realistic expectations who are seeking total skin rejuvenation or treatment of scars from surgery or acne are excellent candidates for fractionated CO2 laser resurfacing. Patients with active inflammatory skin conditions may require treatment of these conditions before lasering, and those with very dark skin are not good candidates because of a risk of changing the skin's native color.
What are the alternatives to Fractionated CO2 laser resurfacing?
Fractional erbium laser resurfacing is an anti-aging treatment that refreshes and rejuvenates your appearance. Fractional laser resurfacing produces significant improvement of acne scars, reverses sun damage, successfully removes superficial wrinkles, increases skin thickness, and improves skin tone and texture.
PiQo4 treatments target pigmentation and discoloration on the face, neck, chest, arms, back and hands. Common pigmentation issues include sun damage, melasma, and post inflammatory discolorations from acne. PiQ04 laser treatments tackle a wide range of pigment shades with high energy and fast results. It is effective for everything from removing tattoos to birthmarks to discolored scars.
How much does Fractionated CO2 laser resurfacing cost?
Approximate costs range from $3,500 and up.
As with all cosmetic procedures, the skill and expertise of your facial plastic surgeon will determine your outcome. At Moy-Fincher-Chipps we have the skills, experience and expertise to deliver superior, individualized results.
How does it take to recovery after Fractionated CO2 laser resurfacing?
After your CO2 laser resurfacing treatment, you will look like you have a bad sunburn and your skin will be warm. Initially, swelling is usually most significant around the eyes. It is normal for the skin to be moist and even contain some crusting. Over the course of 3-5 days, the old damaged skin will begin to come off and light flaking will continue for up to 10 days. Although your skin can remain pink for a few weeks, most patients are able to apply make-up in 7-10 days post-treatment. We will watch your healing closely to make sure you are progressing well and that you are healing as expected. Our staff and dermatologist are available for any questions you may have during your recovery period.
Is Fractionated CO2 laser resurfacing appropriate for all ages?
Fractionated CO2 laser resurfacing yields dramatic improvement in skin tone and texture; evens out pigmentation and eliminates sunspots, as well as smoothes lines, including those around the mouth and eyes. By physically removing the top layers of damaged skin, CO2 laser resurfacing also has medical benefit, removing pre-cancers and stimulating growth of healthier younger skin.