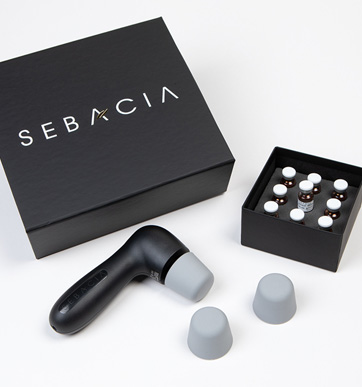 Medical Dermatology
Sebacia Acne Treatment Q&A Interview with Nisha Shah, PA-C
Acne affects approximately 85% of people during their lives, typically beginning in adolescence and sometimes lasting into adulthood. Acne affects not only your appearance but can also impact your self-confidence and social relationships. In some patients, their skin will develop permanent scars caused by acne.
Moy, Fincher, Chipps Facial Plastics & Dermatology is proud to be one of the first practices in the U.S. to offer Sebacia laser acne treatment. Sebacia is new acne treatment that targets the glands that produce acne-causing oil. This treatment has been clinically proven to reduce acne and prevent future breakouts!
In this Question and Answer Interview with Nisha Shah, PA-C, we discuss frequently asked questions about Sebacia and acne. If you have additional questions, we encourage you to schedule a consultation with one of our board-certified dermatologists. With dermatology offices in Beverly Hills, Encino, and Torrance, CA, we're hopefully conveniently located near you.
Q: Why is Sebacia acne treatment so innovative?
A: Sebacia is innovative because it combines traditionally-used YAG laser technology with the power of gold microparticles. With this treatment, we are using the laser energy to directly target the sebaceous glands, which produce oil that contribute to acne. This treatment is done in-office and eliminates the need for daily medication. The treatment has no downtime associated with it.
Q: How many Sebacia treatments do you need to have in order to see results?
A: The treatment protocol requires that patients have a total of three consecutive treatments, spaced one week apart.
Q: How long is an individual Sebacia acne treatment?
A: Each treatment session is 30-45 minutes long.
Q: How long do results last?
A: Results are intended to be long-lasting. Most patients will begin to see some improvement in their acne 6-8 weeks after the completed treatment sessions, with moderate improvement 3-6 months post treatment, and 85% improvement 12 months after the treatment sessions.
Q: Does Sebacia acne treatment work for acne on all parts of the body?
A: Sebacia currently has a clinical indication for mild to moderate inflammatory acne on the face, however, it has been tested on and can be used for acne on the chest and back as well.
Q: Are there side effects of Sebacia acne treatment?
A: The potential side effects to the Sebacia treatment are post-treatment redness or swelling, skin dryness, crusting or scabbing, and/or temporary hair loss in the treated area.
Q: What are the sebaceous glands? And, what role do they play in acne?
A: The sebaceous glands are skin glands that produce sebum, or oil. In some individuals, oil build-up can block the glands, contributing to increased bacterial growth, which can lead to inflammation, redness, and pimples.